Sell Your Business
Confidentiality and Confidently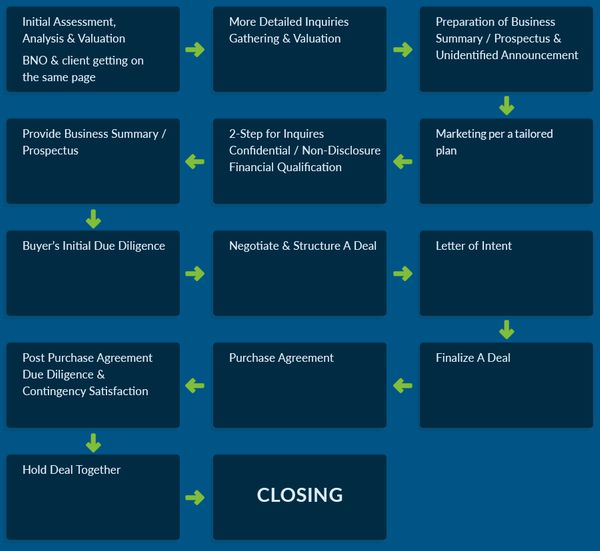 The Selling Process
BNO has been very successful in brokering the sale of numerous businesses throughout Ohio in a wide range of industries.
Engaging BNO to sell your business ensures that an experienced professional business broker will be brokering the sale of your business pursuant to strict confidentiality and a well-established and proven process.
BNO absolutely recognizes the importance of strict confidentially and pre-qualification (financially and otherwise) concerning potential buyers and the balancing of such with the goal of expeditiously selling your business at a maximum sale price.
What's the next step? Contact John Naayers and he'll answer any questions you have.
We have offices in Northern Ohio and Southern Ohio.
BNO Selling Services
Strict confidentially and buyer pre-qualification
Preparation of a business summary: expedites transaction and maximizes sale price
Business consultation to maximize sale price
Transaction structure advice
Tailored marketing

We were very satisfied in the process of listing and selling our business thru BNO (John Nayers). John's experience, expertise and knowledge are truly beneficial in achieving a goal of selling a business promptly and at fair market value.

A lender's prospective: John knows what the banks are looking for and distributes a very thorough package. This provides a competitive advantage in selling your business.

John is very well connected, organized and follows thru with all details in a timely and competent manner. BNO was able to sell our business in a fast and efficient manner for what we felt was a very fair price. I have known John for many, many years and he is a true professional, and BNO is a top notch organization that gets results.

John successfully handled every aspect of our sale. He brought years of experience and understanding of how to assess, value, negotiate and structure the successful sale of our business. Would not have happened without him.

To date, I've been involved in two business transactions where John served as the broker. In my experience as an attorney representing one of the parties to the brokered transactions, John has been great to work with. He is an effective communicator and provides practical and intelligent advice to his clients. I enjoy working with John and have recommended and will continue to recommend his services to my clients who are looking to buy or sell a business.